A few months ago we launched a private Beta program of CAD Exchanger Cloud. Early access was provided to our customers, industry leaders and CAD Exchanger desktop users. We asked users' feedback to adjust the product roadmap and are now excited to present the results. From now on CAD Exchanger Cloud is available publicly and it offers free access during Beta. Feel free to participate at cloud.cadexchanger.com. That will not take more than a few seconds and can be even faster if you sign-up with Google account.
With going public we added several cloud-centric features.
File Sharing
We built CAD Exchanger Cloud to simplify collaboration on complex engineering and product design projects. In the modern world products are developed by teams and teammates often use different CAD software or different versions of the same software. This leads to interoperability issues and users struggle to communicate on designs. We listened to our users and provided two approaches to file sharing.
Private access
Number first priority for our users is security. The intellectual property is a competitive advantage and data leaks may seriously harm business. So private access is a must have. Users can easily and securely share files with specific stakeholders and fine-tune permissions for each recipient. By default, all enabled participants are able to view the 3D model, optionally the author may enable downloading, commenting and re-sharing of the file. It's worth mentioning that recipients who have ability to re-share the file will be able to re-share it with view only access level (without download and commenting functionality). Author of the file is always able to manage the list of users, who has access to the file and fine-tune their permissions with the help of convenient interface.
Public access
Often there are no strict requirements for data privacy. For example, if you are a freelancer your interest might be to show your work to a broader audience. For that we enabled public access. After making the file public you get the link, which you can share via your favorite messenger or just send via email. Everyone will be able to see your design and no registration will be required. For additional security you are able to set an access by password what will enable sharing with "anyone who is authorized"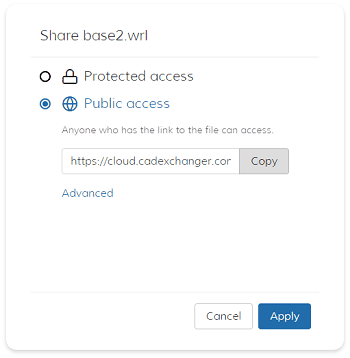 Notes and Commenting
To streamline communication on designs we added the possibility to attach comments to elements of 3D model. It is straightforward mechanism to provide feedback on the resulting design or to add TODOs. This approach helps to minimize risk of misunderstanding between the project participants and allows to clearly communicate your idea. Create a couple of comments and try to navigate between them. Thanks to smooth transitions, the model turns into mini-presentation, allowing to show design to the customer in the most appealing manner.
Notes attached to the 3D models can be quickly navigated through using the side panel (see screenshot below). Switching between the notes positions the model into the state it was in when the note was taken. This allows to accumulate a set of model views and quickly exchange the ideas between the participants.
3D view improvements
To streamline user experience, we added a view-cube, smooth transitions and improved performance of 3D viewer. CAD is always resource-intensive and situation goes even harder, when computations are made in a browser. With this effort we continue to leverage our performance focus which has always been a strong competitive advantage of CAD Exchanger.
Enhancements of core algorithms significantly improve FPS (frame per second) rate and allow to faster process bigger files. (Note that the import file size is temporarily restricted to 30MB during the beta program).
Sign-up for free
We are excited to upgrade CAD Exchanger Cloud to public beta and sincerely encourage you to sign-up, give it a try and share your feedback with our team. On our side we will continue adding more features, address known limitations to make the product better and better. The product will remain fully free during the beta program so use this opportunity while it lasts.