Greetings from the development deck, meet the new CAD Exchanger release, which arrives on schedule despite all the challenging global stuff stacked against us. Product structure update, licensing improvements, and multiple format-specific enhancements - these are just a few highlights of CAD Exchanger GUI 3.8.1.
Reporting missing references in Product Structure panel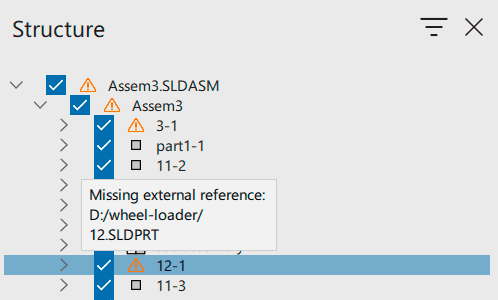 File formats like SOLIDWORKS or JT may have shattered file structure, meaning that every assembly (or part) will be saved in a separate file. When we are dealing with such files, there is a risk of missing reference, which will result in the missing part in the 3D scene. In this case, CAD Exchanger will display a warning status in a structure tree next to the corresponding node.
Licensing improvements and our response to COVID-19
We always strive to provide convenient licensing options to satisfy both individual and team users. With the 3.8.1 release, CAD Exchanger offers site-wide and server licenses.
The site-wide option allows you to simultaneously run CAD Exchanger GUI on an unlimited number of machines belonging to the same network domain.
The server license enables installation on a corporate server to grant access to every employee. In this case, GUI requires a single serial number and installation, simplifying the administration of the software.
CAD Exchanger licenses (just like any license of most of the modern software) are tied to a hardware component. During the COVID-19 pandemic ramp-up, we received numerous requests to move licenses from corporate workstations to home laptops. Our support team was responding with manual assistance, but that inspired our engineering to automate the process. Now a simple guide in the Information panel lets users do it on their own, as shown below.
Format-specific improvements
Enhanced Parasolid procedural geometry support
CAD Exchanger is able to retrieve elementary, free-form, and procedural geometrical elements. The latter has no explicit parametric equations that define its shape, which makes it more problematic to import. With the new release 3.8.1 we further enhanced import of intersection curves, blended edges and blend bounds. The Parasolid geometry is used in multiple formats, so users of JT, NX and Solidworks ones will benefit from these improvements in geometrical accuracy.
Parallel computations, which CAD Exchanger heavily leverages to achieve superb performance, present a challenge of non-determinism when multiple cores execute multiple threads with shared data and produce different results. CAD Exchanger GUI now ensures determinism when importing shared tolerant edges (without a 3D curve).
X3D
X3D (Extensible 3D) is an XML-based file format for representing 3D graphics on the Web. Its scope includes lighting and shaders, spatial audio and video, animation and simulation, user interactions and camera navigation. Developers incorporate X3D into their application to visualize objects and environments for engineering, scientific, educational, and entertainment purposes.
CAD Exchanger's new version supports not only export but also import of X3D. It is now possible to view and explore the files and convert them to VRML, OBJ, STL, and many other formats.
STEP semantic PMI import enhancement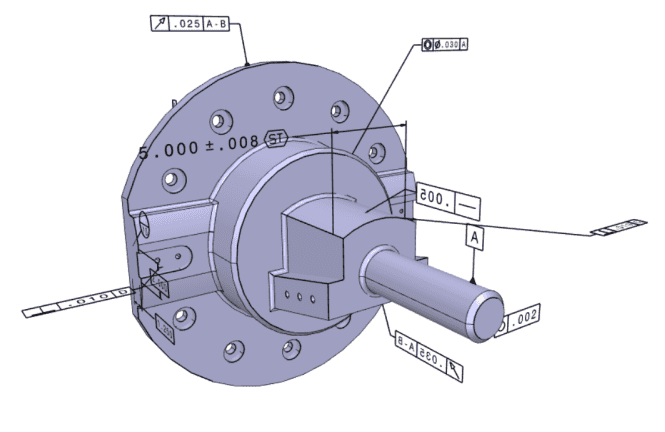 CAD Exchanger supports both semantic and graphical PMI. 3.8.1 version extends the scope to the machine-readable dimension and tolerance import. While graphical presentation appeals to engineers and designers, these semantic elements deal with downstream CAM software and CNC machines.
CAD Exchanger GUI also includes improved models representation in several formats:
New spline subtypes in ACIS;
Switch nodes in JT;
Import of sheet bodies from Creo;
B-Rep import in SOLIDWORKS 2021;
Meshes import in SOLIDWORKS 2005, 2006, 2009 - 2011, 2014, 2015, 2017;
Bug fixes and other minor improvements for IGES, STL, and others.
A detailed list is available in the CHANGES.txt file.
Each functionality extension entails new opportunities. But during the early adoption, there are bound to be certain issues in the most tricky areas. That's why we are grateful to the users who willingly report problems and share problematic files with us. Feel free to contact us at support@cadexchanger.com and stay tuned for further releases!