Ladies and gentlemen, we are happy to present the new version of our online service. In this release: Collada, GLTF, DXF, 3DS, SolidWorks and brand new Web Toolkit examples. So, let's get this started!
Collada import/export
COLLAborative Design Activity - this is what 'COLLADA' stands for. It's an XML-based schema that enables data exchange among 3D Digital Content Creation tools, like Maya, SketchUp, 3ds Max, and Rhinoceros. COLLADA files have the *.dae file extension, which means digital asset exchange. This September Collada is wholly integrated into CAD Exchanger Cloud, which means that both import and export are provided.
GLTF export
'JPEG of 3D' - yes, this is GLTF, standard for many 3D apps and game engines. What is more, GLTF is distinguished for being a common publishing format for 3D content tools and the preferable format for web applications. Now you can even display GLTF on the news feed. CAD Exchanger Cloud supports its export and is recommended when feeding data into three.js-based web applications.
DXF export
DXF is another format designed for enhancing data interoperability. This one was focused on facilitating the interoperability between AutoCAD and other 3D CAD applications (in addition to ACIS (*.sat) format supported by CAD Exchanger for many years). Export of DXF will allow you to produce files that can be viewed and edited in AutoCAD.
3DS import
In this release we enhanced Cloud with another format developed by Autodesk. It's 3DS. The format is native to the original DOS-based 3D Studio modeling and animation app. Despite the fact that this format is mainly seen as rather old school, it's still broadly used.
Solidworks
Solidworks import has been made fully cross-platform. Henceforth, Solidworks files can be read on Windows, Linux, Mac OS, and Android. Various betterments have been actualized to accurately open files with peculiar geometry.
New Web Toolkit examples
Software developers can build browser based applications using CAD Exchanger Web Toolkit in several ways. For data exchange we provide Cloud API and for visualization of 3D CAD on the client side we provide JavaScript libraries.
With this release we further improved Web Toolkit Documentation. The examples page presents Web Toolkit features in easily digested form with sample 3D files and source code samples.
In this release we ameliorated our documentation and made it even more user-friendly. Now you may choose any example model and see its source code right on the documentation page. Another highlight of the new version is the enhancement of three.js viewer. To learn more about that read our set of blogs on 'How to load 3D CAD data into three.js: Part1, Part2.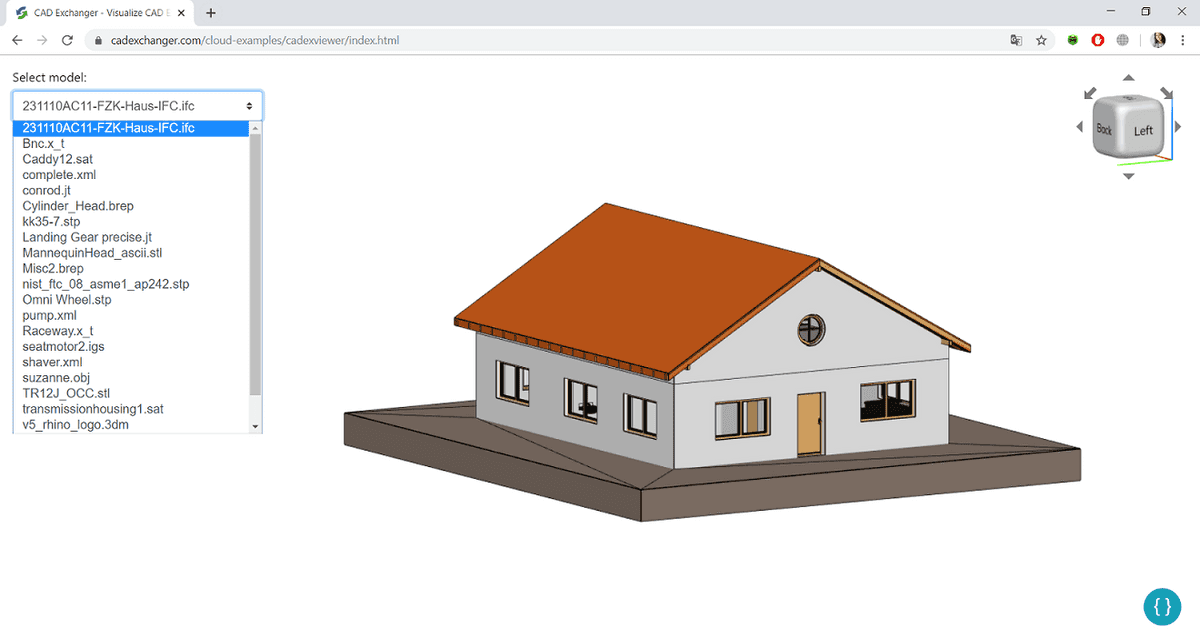 Miscellaneous
Many thanks to those of you who sent us problematic files. Resolving corner cases we way bettered CAD Exchanger. Should you encounter any problem files please reach out to us at support@cadexchanger.com.