What are the configurations in SOLIDWORKS?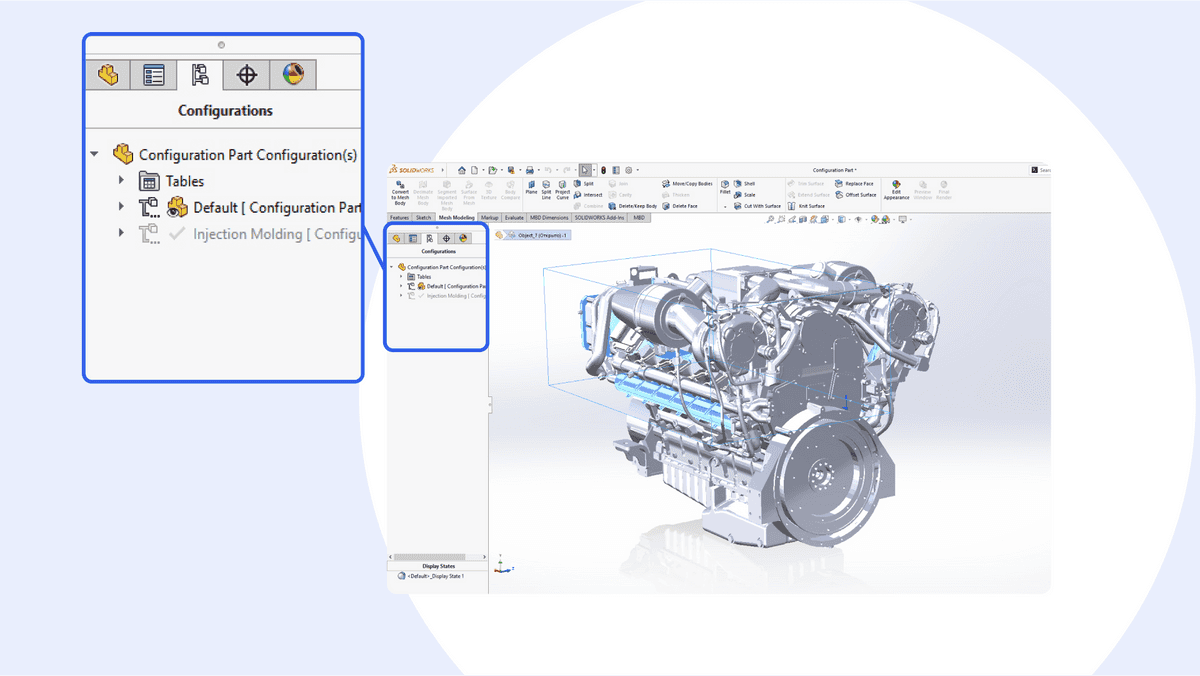 In SOLIDWORKS, configurations allow users to manage different variations of the design within a single file. They refer to variations of a part or assembly within a file and allow you to create multiple representations of a design without the need for separate files. You can quickly switch between configurations to compare different parameters and evaluate their suitability for a particular application.
Configurations are especially useful for parametric design, where you want to explore different iterations of a design without creating separate files for each version. Instead of creating separate files for each variation, you can maintain them all within a single document. This saves time and storage space and reduces the risk of version control issues.
What configurations are used for?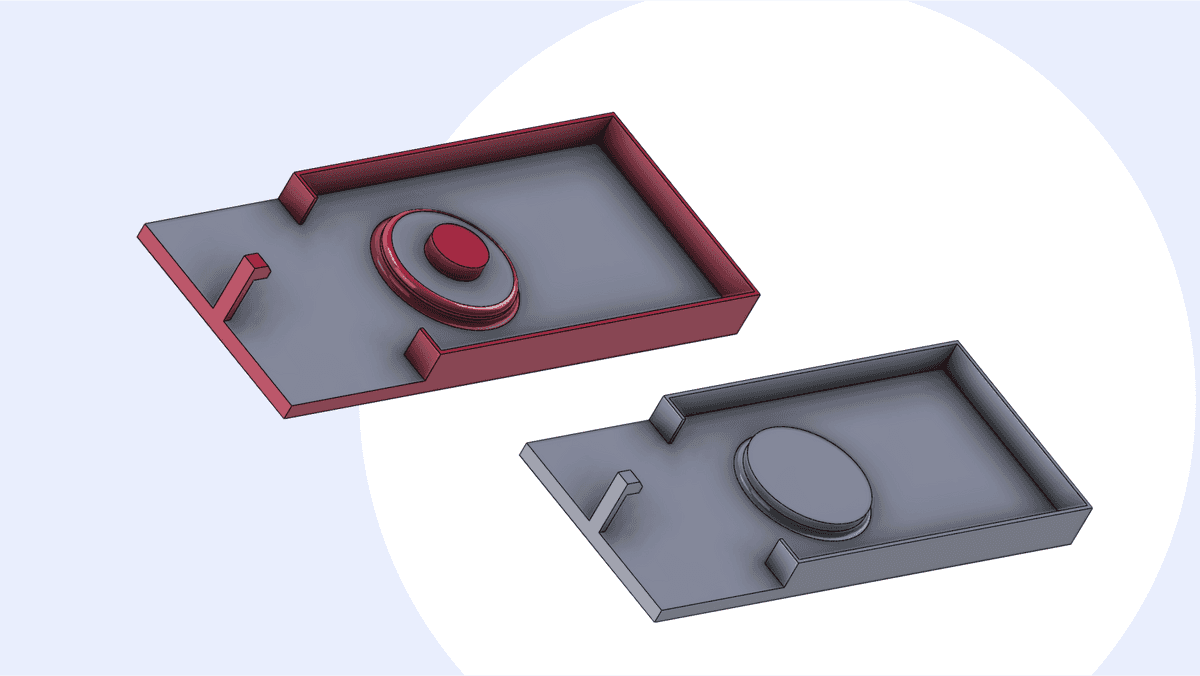 Design variations
The capability to create multiple versions of a part or assembly within a single file allows users to compare different variations of the design and evaluate their respective strengths and weaknesses. This comparative analysis is crucial for making informed design decisions, as it provides a clear understanding of how alterations to dimensions, features, or components impact the overall performance and functionality. This makes configurations especially useful when creating customizable products since they enable designers to efficiently explore and validate various options without the need to manage separate files for each version.
Additionally, it enables designers to fine-tune and optimize the design for specific requirements or constraints, leading to more efficient and cost-effective solutions. Moreover, this feature simplifies the documentation process, ensuring that detailed drawings and Bill of Materials (BOM) accurately reflect each variation.
Efficient file management
Instead of creating separate files for each variation, configurations keep all design iterations organized within a single document. This reduces clutter and makes it easier to manage files. Furthermore, the centralized nature of configurations in a single document promotes efficient file management. It eliminates the need to navigate through a multitude of individual files for different design iterations, which can often lead to confusion and wasted time. With configurations, all variations coexist harmoniously within a unified framework, ensuring that every version is easily accessible and neatly organized. This minimizes the risk of misplacing or overlooking critical design versions.
Simulation and analysis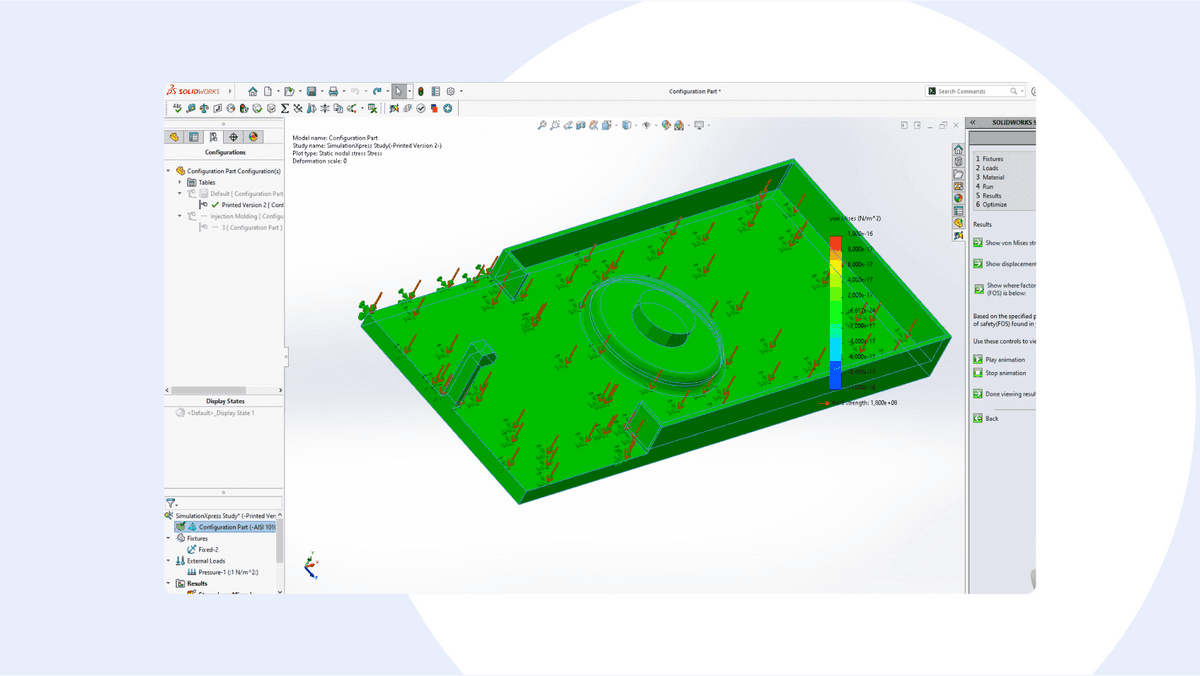 Configurations enable you to perform simulations and analysis on different design variations. This helps in evaluating performance under various conditions without creating separate models. By creating multiple versions of a design within a single file, engineers can easily set up and run simulations on each variation. This means they can evaluate factors like stress distribution, thermal behavior, fluid flow, and more, without the need to duplicate models or set up separate simulations for each iteration.
This capability is especially valuable when exploring different design options or optimizing a product for specific use cases. Engineers can quickly compare the performance of various configurations and make informed decisions based on the simulation results. Additionally, it saves significant time and computational resources compared to running simulations on separate models.
Furthermore, the ability to simulate different configurations helps in identifying potential design flaws or areas that may require improvement. Engineers can then iterate on the design, making adjustments to address any issues that arise during the simulation process.
How to use configurations?
Creating families of parts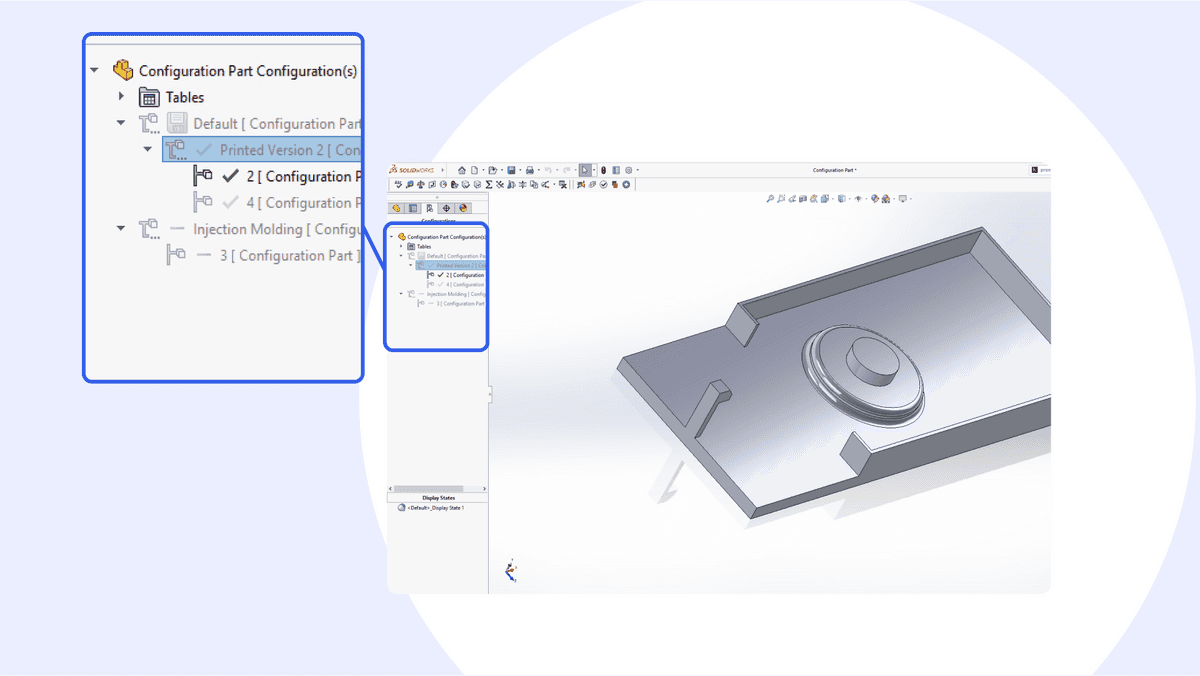 Configurations can be used to create families of parts with different dimensions, features, and properties. This means you can design a single part that can adapt to different specifications, saving time and resources. Moreover, configurations empower the creation of families of assemblies with diverse configurations of components, assembly features, dimensions, and custom properties. This is crucial for designing products that come in different variants or for accommodating specific customer requirements. It allows for efficient management of variations without the need to create separate files for each version.
Generating simplified design versions
In assembly documents, configurations enable you to generate simplified versions of your designs. This is achieved by suppressing specific components and streamlining the model for specific use cases or representations. This capability is valuable for presenting or simulating assemblies in various states or stages of production.
Regenerating the geometry
Upon switching to the new configuration, SOLIDWORKS efficiently regenerates the geometry to accurately represent the chosen configuration. This ensures that all components and features are correctly arranged and aligned. Furthermore, the software recalculates all measurements in accordance with the specified parameters. For instance, if the model is scaled to be larger or smaller, SOLIDWORKS automatically adjusts dimensions, ensuring precise adherence to the provided specifications.
How to manage configurations
Configuration Manager is the interface where you manage and create configurations. It appears in the left pane of the SOLIDWORKS window and displays all the configurations for a part or assembly.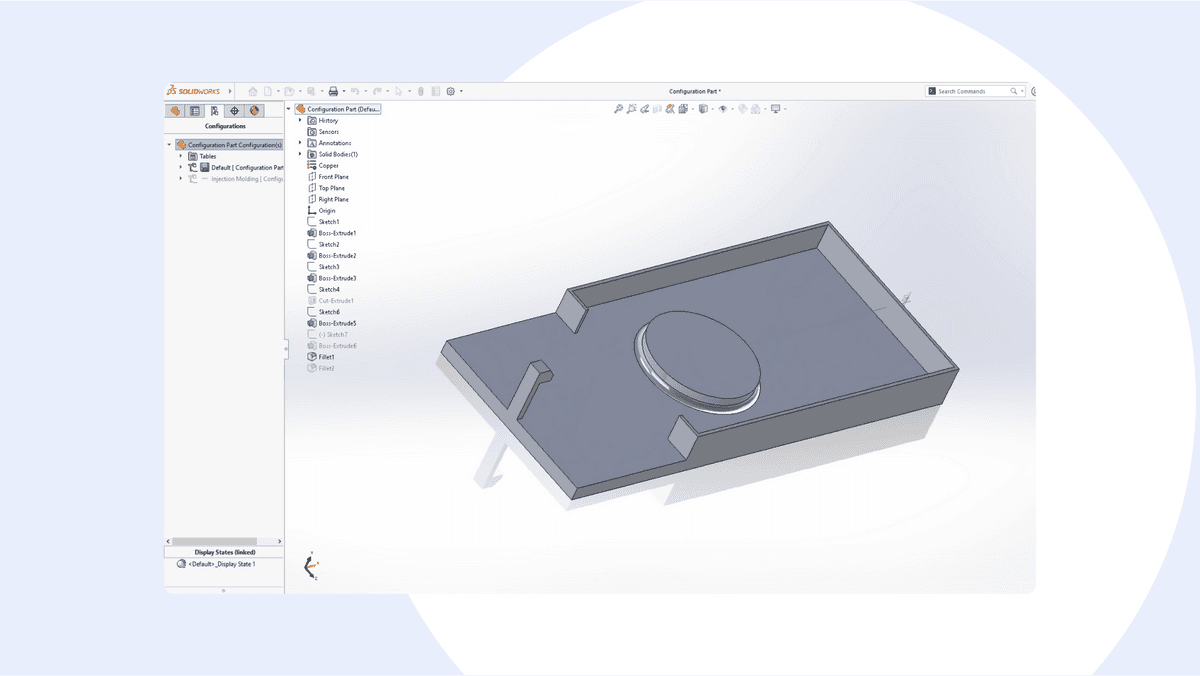 Organizing configurations using folders and subfolders in SOLIDWORKS can help streamline the design process and improve the overall clarity of your feature tree. By using folders and subfolders effectively in SOLIDWORKS, you can maintain a clean and well-organized feature tree, making it easier to navigate and manage multiple configurations within your design. This approach helps improve productivity and reduces the chances of errors or oversight during the design process.
But don't forget about proper documentation and version control when working with configurations in order to streamline workflows, reduce risks, and facilitate effective collaboration within teams. These two factors are essential for maintaining clarity, consistency, and accuracy in configuration management. 
You can create derived configurations, which are based on an existing configuration but have additional or modified features. In other words, derived configurations are variations of an existing configuration that inherit the majority of their characteristics from the original design. The derived configuration maintains a parent-child relationship with the configuration it was based on. This means that if the original configuration is modified, the derived configuration will update accordingly.
SOLIDWORKS converter in CAD Exchanger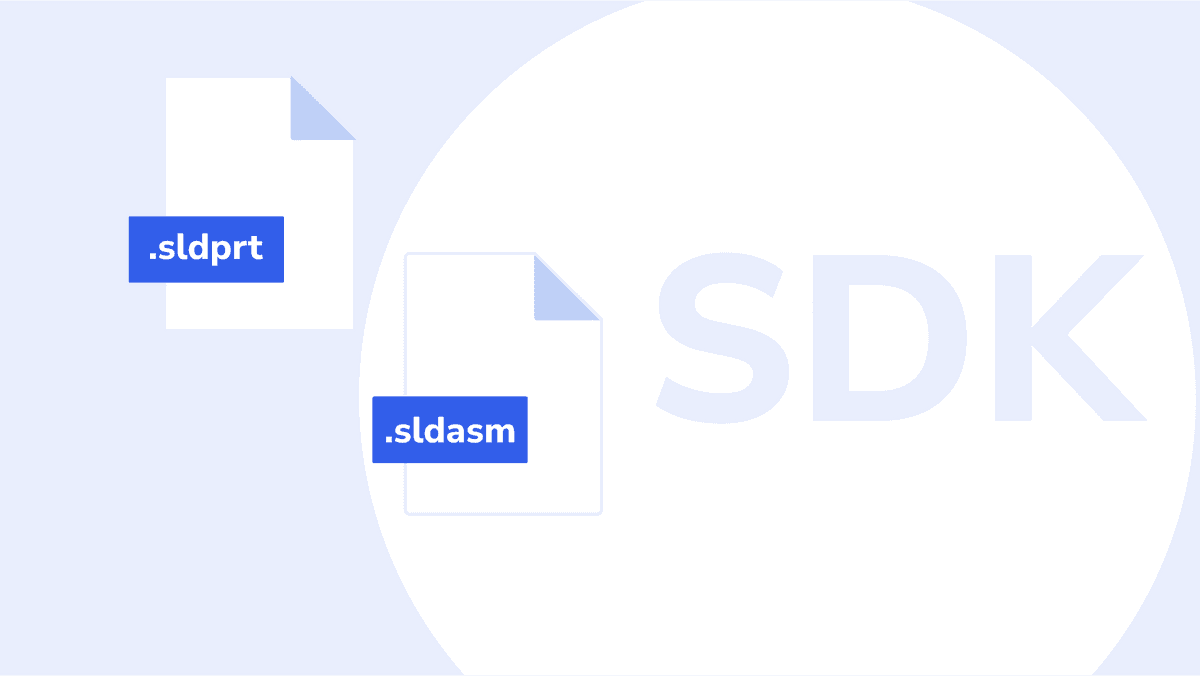 The SOLIDWORKS converter in CAD Exchanger enables the translation of SOLIDWORKS files (.sldprt and .sldasm) into other CAD formats. This converter is part of the CAD Exchanger SDK, a comprehensive software development kit designed for working with 3D CAD data. The converter allows for the import of SOLIDWORKS files, ensuring seamless compatibility between SOLIDWORKS and other CAD systems, enabling smooth collaboration and interoperability in multi-CAD environments. You can get more information about SDK's functionality here.
The SOLIDWORKS converter in CAD Exchanger is designed to work on multiple platforms, including Windows, macOS, and various Linux distributions, so you can work in the preferred operating environment.
Moreover, CAD Exchanger SDK provides all the essential tools to effectively manage configurations. Whether you're dealing with variations in size, parameters or features, SDK offers an ability to load model data in the exact state prescribed by a given configuration. With detailed documentation, you can have all the resources needed to utilize all the benefits of configurations in your 3D modeling projects. 
Summary
In this blog post, we explored product configurations in SOLIDWORKS, their benefits and applications. Briefly, configurations in SOLIDWORKS are valuable for creating variations of a design within a single file. They allow you to efficiently manage different sizes, parameters, or features of a part or assembly. Configurations are instrumental in tasks like creating families of parts, exploring design alternatives, and generating detailed drawings for different versions of a design. They streamline the design process, reduce file clutter, and enhance the overall flexibility and adaptability of CAD models.
As one of the most common 3D formats, SOLIDWORKS demands a converter that is up to the task. CAD Exchanger SDK supports 30+ 3D formats, including SOLIDWORKS, and provides all the tools needed to work with configurations.