Rhino format
Rhino is a native format for the Rhinoceros 3D modeling tool. Engineers across the globe use it for CAD / CAM, 3D printing, industrial, architectural, multimedia, graphic and other design. The Rhinoceros file format utilizes NURBS (Non-Uniform Rational B-Spline)-based geometrical model and is therefore useful for the exchange of NURBS geometry. CAD Exchanger is able to seamlessly read and write .3DM format and convert it to other supported formats.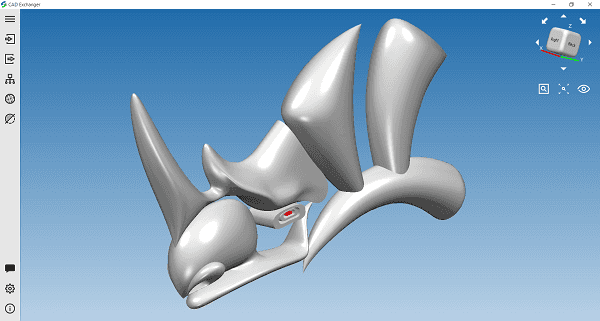 MacOS support
There is no universal platform anymore. Modern organizations take advantages of different operating systems to set up own working environments. At CAD Exchanger we take people convenience seriously. We want to provide our users with the opportunity to work within their familiar environment without forcing to use unnecessary virtualization software. Therefore, we enabled full-fledged MacOS support. Now our users can run CAD Exchanger on every major platform including Windows, Linux, MacOS and Android.
Complete new UI
At CAD Exchanger we not only continue to expand functional capabilities but also try to keep things simple. Inspired by the latest design guidelines we revamped user interface. New UI includes view cube for faster 3D view navigation, drag-and-drop support, easier model exploration, property access, polygonal representation creation and other enhancements.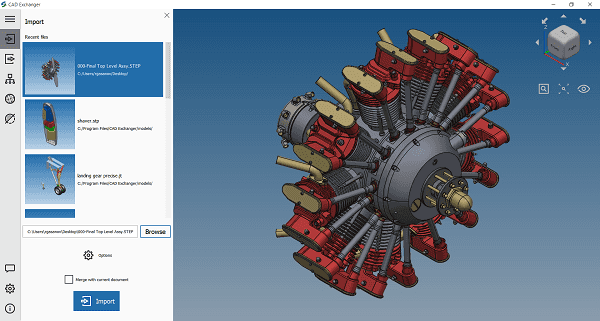 Sectioning view
Sometimes it is difficult to reach internal layers of the model with only one plane section. CAD Exchanger 3.2 allows building sectioning views with up to 3 planes at the same time. User is able to combine the planes and tweak configurations to achieve best possible views of 3D models. We also improved the sectioning algorithms by providing solid filling at the section plane when sectioning solid B-Rep bodies.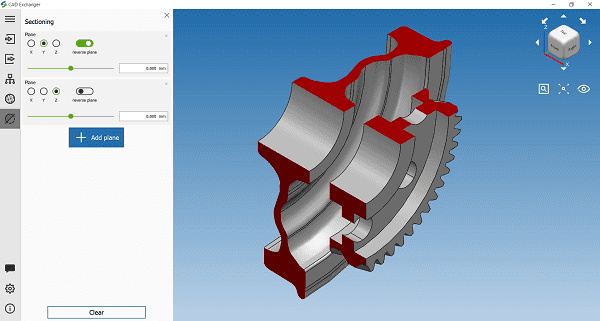 Meshers
High precision 3D model can be vital during production process. However, most of the times engineers just do not need very precise models to perform simple visual analysis. In those scenarios approximate representation is enough. Therefore, modern CAD software allows storing a number of representations of the same 3D model in the single file to manage quality/performance balance. This concept is often called Level Of Details (LOD).
CAD Exchanger 3.2 provides opportunity to read multiple representations and switch between them at the run-time. For instance, JT files often contain multi-LOD representations which can now be individually visualized.
Morever CAD Exchanger includes three meshing algorithms that can be fine-tuned to create new polygonal representations and export them separately. Representations can now be removed to reduce the model size.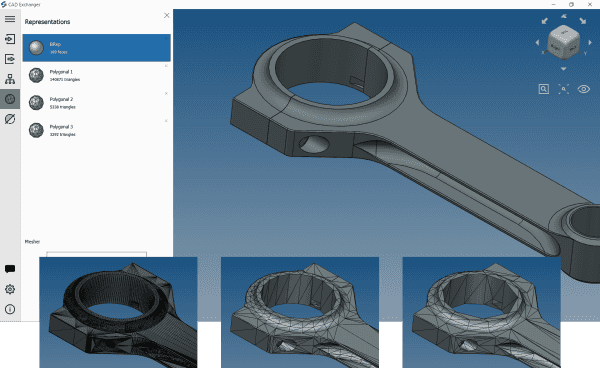 JT 10 and other latest format versions
CAD Exchanger introduces experimental support of JT10 import and of ACIS R26 import and export. This will enable users working with the latest versions of CAD applications to exchange data with their partners, customers and suppliers.
Bug fixes and enhancements
Traditionally we fixed the issues found during development or reported by our users, introduced general performance and maintenance improvements.