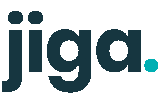 Jiga video testimonial
Companies ordering custom parts want to have a better choice when it comes to manufacturing contractor search. Some customers need the shortest lead times and vote for local manufacturers, while others require highly specific fabrication methods and are ready to choose expertise over speed. It is the custom parts marketplaces tha try to meet this demand offering dozens of options all over the world.
Custom parts marketplaces are online platforms presenting numerous manufacturing vendors. Usually, suppliers are arranged according to the processes they support, industries they focus on, and their location. Managing the catalog of available offers, marketplaces contribute to vendors promotion while leaving most of the operation for businesses to manage. Thus, marketplaces strive to facilitate matching manufacturers to customers. While these platforms give a large overview of the market proposals, certain troubles that can be disguised under the most attractive user interface:
- No direct buyer-supplier communication, when a marketplace acts as an inefficient middleman charging fees and multiplying miscommunication.
- Directory only. Though you do find the names and contacts, you still need to run the whole tiresome process of paperwork and logistics.
- Outdated information. There is a risk to have your eyes on a producer who doesn't offer the necessary services anymore or has stopped its existence at all.
Jiga is a B2B marketplace for customized parts manufacturing which streamlines the order from quotation to delivery and allows direct communication with a supplier. The customer uploads a 3D model of a necessary part, specifies such requirements as location, certification, processes, and others, and automatically gets several quotations.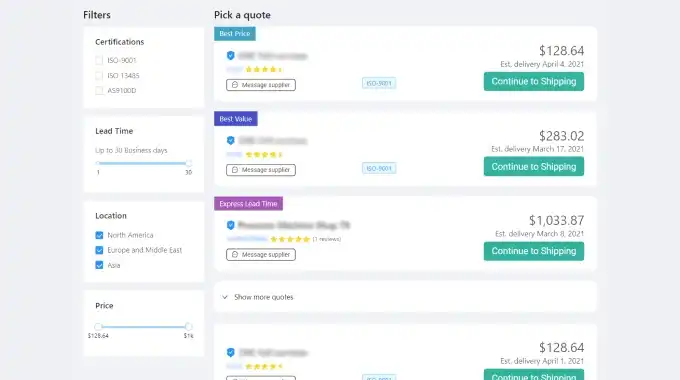 Selection of quotes according to the customers requirements
The founders of Jiga, Assaf Geuz, Adar Hay, and Yonatan Wolowelsky, have solid careers in the manufacturing industry. They know all the aspects of parts manufacturing from both sides: producing custom items and ordering parts. This experience prompted reflection on a more transparent and fast solution. The one that would salvage participants from a tedious search for the best price and lead times, endless back-and-forth communications on quotations and POs, paperwork and logistics management.
Today Jiga puts together manufacturers of various specializations: 3D printing, CNC machining, sheet metal, and injection molding. With its first project launched during the COVID and focused on speeding up the production of ventilation machines, now the marketplace also caters to such industries as aerospace, robotics, automotive, IoT, and others. Thanks to its services, huge corporations like ICL Group Ltd. manage to reduce average lead times of parts and startups like Tuck Bike finally find a possibility to drive their innovative product from design to prototype.
The need for multi-CAD data translation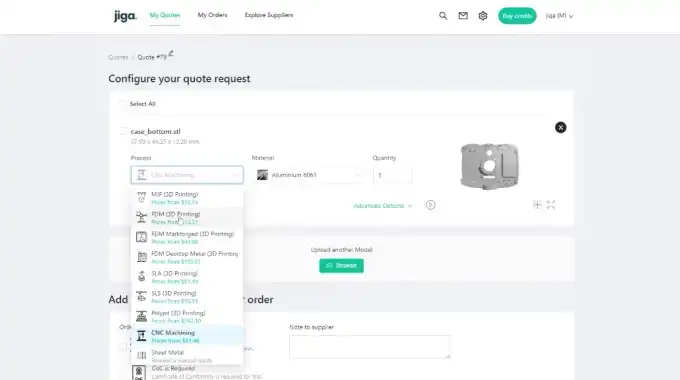 Quote configuration in Jiga
The main force of Jiga lies in its client-supplier matching algorithm. The software calculates the price and lead-time according to the assembly and parts materials, dimensions, necessary manufacturing processes, and other features. All this data depends on the ability to extract geometrical and topological parameters from a customer's CAD model.
What's more, the marketplace allows previewing the part before manufacturing. Seeing the visualization and being able to rotate and zoom the model, customers can check whether the right part was uploaded and have higher confidence in the results.
As the customers come from various industries the need to support as many common CAD formats as possible was crucial for the flawless performance of Jiga service. Once it became apparent that addressing this need internally would require a massive amount of resources, management of the marketplace went out to find an efficient third-party solution.
From STEP and 3D XML to custom manufacturing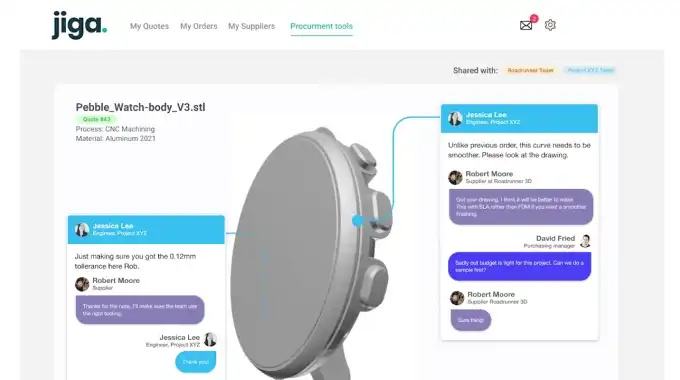 Collaboration on the order in Jiga
Adar Hay, founder and CMO at Jiga, stated that after a week of CAD Exchanger evaluation it became obvious that the solution had been found. With an integration as short as a few days the technology allowed Jiga to convert and visualize .stl, .prt, .sldprt, .stp, .step, .3dxml, .sat, .obj, .iges, and .x_t.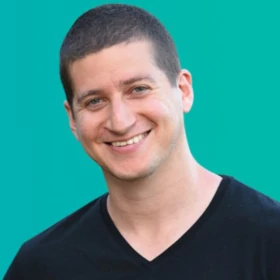 Adar Hay
Founder & CMO, Jiga
"CAD Exchanger is a great technology provider that saves a lot of development time for us and helps us to focus on what we're good at."
"CAD Exchanger helps us to convert many different formats to a single format and that's how we view the 3D files easily for our customers," says Adar Hay. He defines three key benefits of the applied solution:
A large scope of formats. CAD Exchanger helps to support numerous CAD formats and thus enables increased customer coverage.
Low-effort integration. CAD Exchanger doesn't require complex development efforts and time-consuming integration. According to Adar Hay it reduced their internal development time by hundreds of hours, which instead went to fostering the marketplace itself.
Fast launch. The integration process took just a few days providing Jiga with a prompt improvement of its functionality.