What is Revit?
Autodesk Revit is a popular CAD software with an emphasis on BIM that's heavily used by architects, engineers, designers, and contractors. It was initially developed by Charles River Software to revolutionize how buildings were designed, constructed, and maintained by bringing the power of parametric modeling to the forefront. Thanks to Revit, it became possible to coordinate changes and ensure consistency without the need for manual intervention.
In 2002, Autodesk recognized the potential of Revit and acquired the CAD software, paving the way for its rapid growth and development within the Autodesk ecosystem. Under Autodesk's ownership, Revit underwent significant advancements and enhancements. The software embraced a collaborative approach, allowing stakeholders to seamlessly work together on building projects.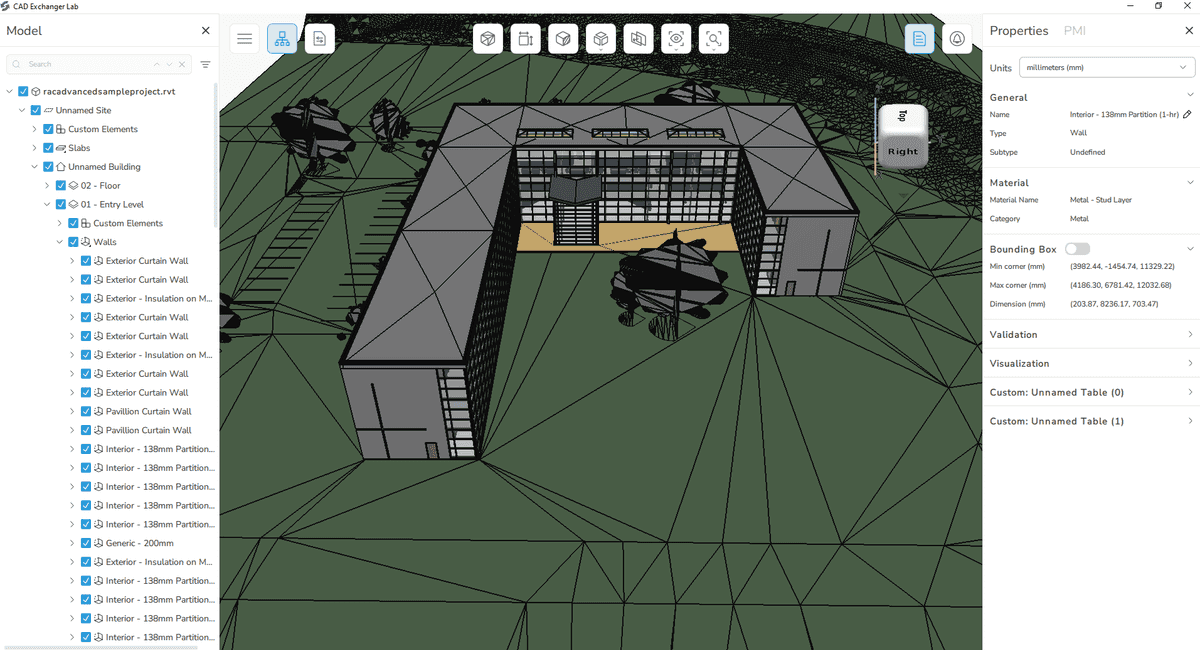 Today, Autodesk Revit stands as a premier BIM solution trusted by architects, engineers, and construction professionals across the globe. Its robust features and capabilities have reshaped the industry, empowering professionals to create accurate 3D building models with detailed annotations and incorporating vital information from the model's database.
Parametric modeling in Revit
Parametric modeling in Revit is a powerful feature that involves defining relationships among different elements within the file. You can establish rules and limitations that ensure elements maintain specific proportions and alignments. These relationships enable the model to adapt and respond to changes.
For example, let's consider an edge of a floor connected to an exterior wall. Any movement or modification of the wall will automatically adjust the floor edge to remain connected.
So, if the exterior wall is initially positioned in a specific location, and you decide to move it to a different position, Revit will automatically update the floor edge to stay connected to the new position of the wall. This parametric modeling relationship ensures that the floor or roof remains seamlessly associated with the exterior wall, maintaining design integrity and coordination.
Сontents of the Revit file
The CAD software uses a proprietary file format called the Revit project file (.rvt) to store and organize all the data related to a project. It consists of various components that come together to build a comprehensive digital representation of a building or infrastructure project. Some key elements in a Revit file include:
Revit families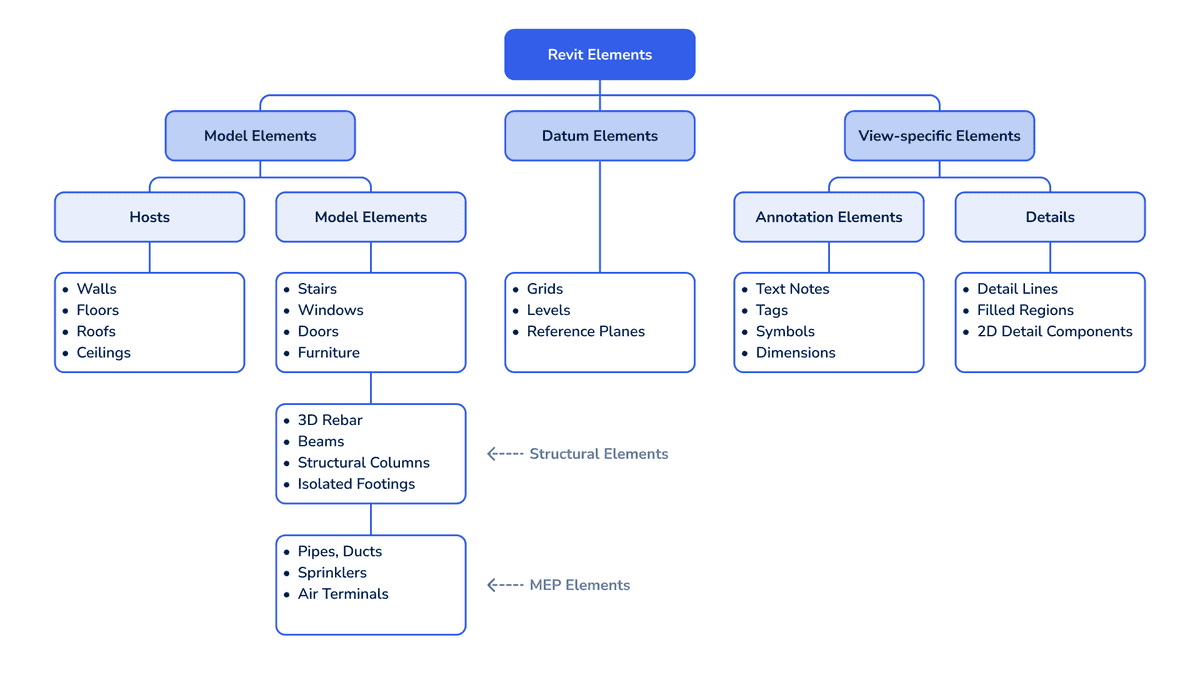 There are three categories of elements: model elements, datum elements, and view-specific elements. These elements are commonly known as families and consist of sets of parameters and geometric definitions to represent various building components such as furniture, textures, equipment, and MEP systems.
Model elements are responsible for representing the physical 3D geometry of the building, and they have two types. Hosts are built right at the construction site and include walls, roofs, ceilings, etc. Model components encompass everything else you can imagine within the building model, from windows to electrical panels. All of these components can be easily placed and modified within the model, saving time and effort during the design process.
Datum elements contribute to defining the project context. Examples of datum elements are grids, levels, and reference planes.
Within the view-specific elements, Revit identifies two distinct types. The first type comprises annotation elements, which are 2D components specifically designed to document the model and ensure accurate scaling when printed on paper. Dimensions, tags, and keynotes serve the purpose of providing descriptive information about the model.
The second type of view-specific elements are details, which encompass various 2D items that offer intricate insights into the building model from a specific viewpoint, such as detail lines and filled regions.
Revit element properties
Revit files contain a wide range of properties that define the characteristics and behavior of the building elements. Some common properties found in a Revit file include element names and descriptions, physical and thermal characteristics, material composition, analysis-related parameters, relevant MEP data,  color, and texture.
There are two types of properties in a Revit format file: type properties and instance properties.
Type properties

These properties are defined at the element type level. They are shared by all instances of the same element type. For example, if you have a type property named "Height" for a door, changing the height value in the type properties will update all instances of that door type. Type properties are great for maintaining consistency across similar elements in your project.
Instance properties

Instance properties, in turn, are specific to individual instances of elements. They allow you to modify and customize each element's unique characteristics. For example, if you have multiple doors of the same type, you can adjust the instance properties of each door separately, such as changing the swing direction or adding specific hardware.
What does CAD Exchanger support include?
Let's check some of the key ways CAD Exchanger supports Revit.
Importing  
CAD Exchanger allows you to import Revit project files into its software environment in SDK, Lab, and Web Toolkit. We tried to match the structure of the Revit file with our own BIM data model as much as possible. All elements have fixed semantic types, by analogy with the Revit families.
At this stage, the import includes B-Rep representations, assembly structure, names, colors, type and instance properties. More specifically, it includes all the semantic types such as beam, furniture, door, column, plate, railing, site, slab, stair, wall, and window.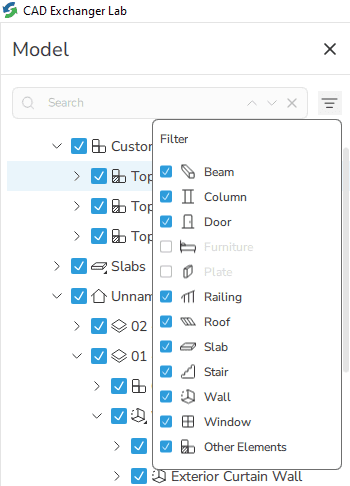 In addition, we support the import of large environmental elements, such as landscapes, parking lots, roads, and small ones, like cars. As you can see in the picture below, the Revit file includes not only the building elements themselves but also the topography. It is utterly important when planning the construction of a building.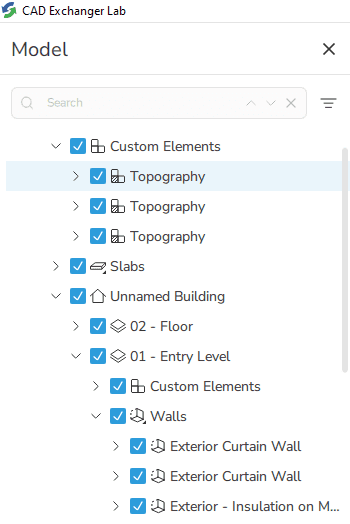 Along with support for semantic types, we have added the import of type and instance properties. Besides the properties such as width and height, we store information about the material, for example, brick. It, in turn, reflects such properties as strength, density, etc. Some parameters are calculated on the fly, so a file without the necessary initial values may not have such parameters.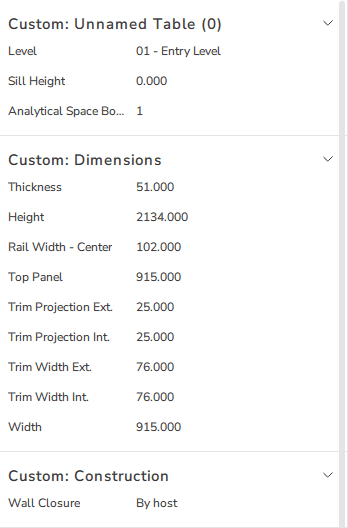 Inspecting and analysing  
Once the Revit file is opened, you can use tools to explore the 3D model and inspect the elements of the Revit file for detailed analysis and measurement.
Control the visibility of levels to evaluate different representations of the building model. They can include floor plans, elevations, and schedules. Views aid in visualizing and documenting various aspects of the design and construction process. For example, the picture below shows the detailed structure of the building without the entry level.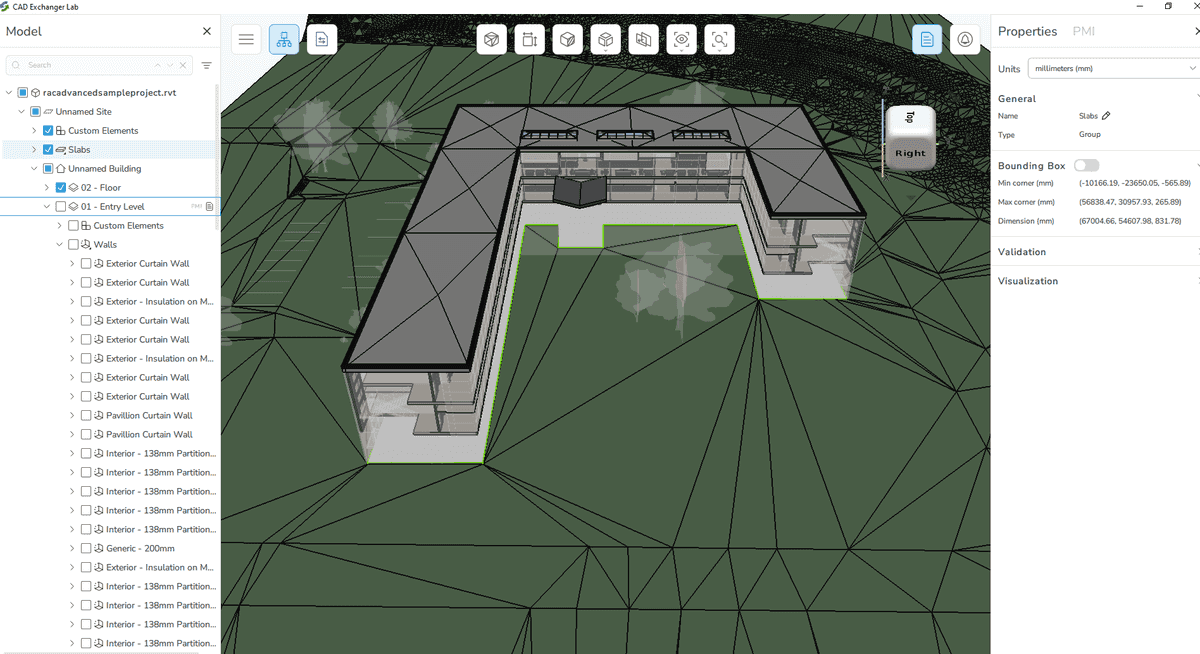 Select individual elements or groups of elements and obtain properties and dimensions. Change display modes (e.g., wireframe, shading, shading with boundaries), use a sectional or an exploded view, and perform other adjustments to enhance your experience. You can not only analyze the file but also make changes to your model and then save it in the IFC format.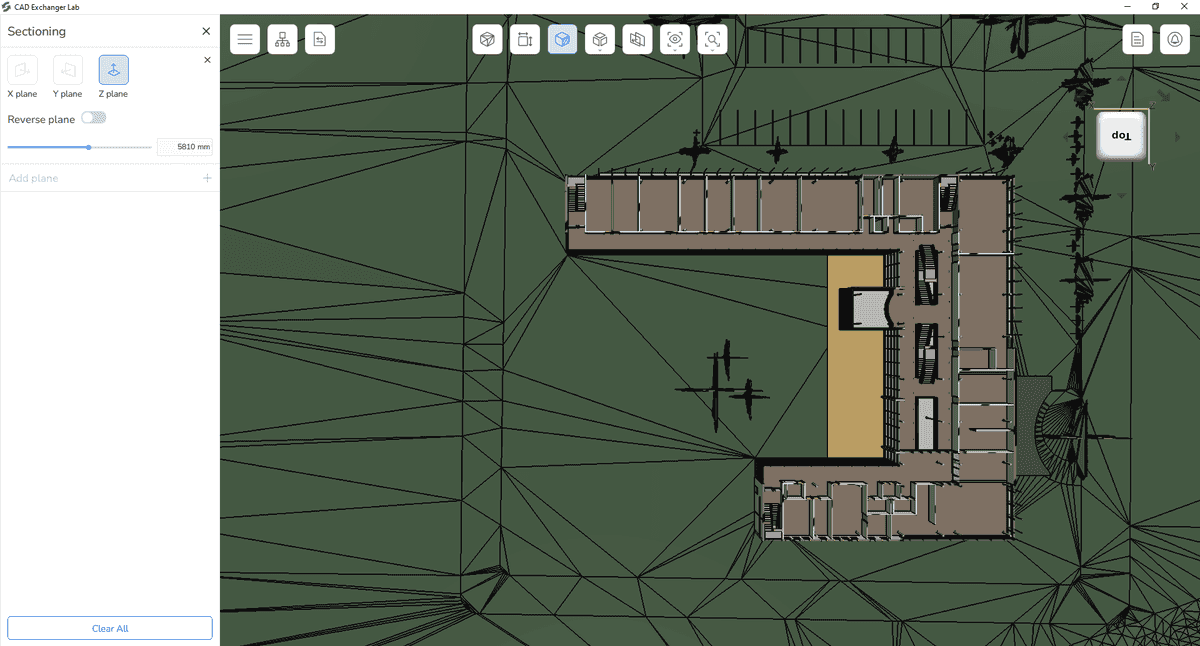 At this stage, we cover the import of Revit 2019–2022 files. In the nearest future, we are planning to support more versions and solve user requests to better address industry requirements.
Summary  
Revit is a CAD software that enables seamless collaboration between architects, engineers, and contractors. The Revit file format encompasses a comprehensive representation of a virtual building project, containing crucial elements such as building geometry, families,  components, and properties. This information defines the physical structure and spatial relationships within the building.
With its rich data structure, the Revit file format allows all stakeholders to develop, visualize, and analyze complex building designs, facilitating efficient project coordination and accurate documentation. We, in turn, do our best to make it as comfortable as possible for you to use Revit files outside of their main environment.