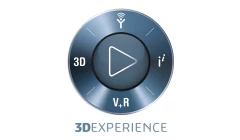 3DEXPERIENCE is a collaborative platform for creating products and services in the cloud, particularly in the area of design, engineering, and manufacturing.
3DEXPERIENCE allows everyone involved to interact and work together on a product: exchange data, contribute to a design, build and test a virtual model.
The platform also has its marketplace for on-demand manufacturing, 3D parts catalog, and engineering services.
With Materialise 3-matic, you can clean up rough data for simulation or convert your mesh back to CAD. In addition, it allows you to enhance your design by creating 3D textures, lattice structures and conformal structures, ready for Additive Manufacturing.