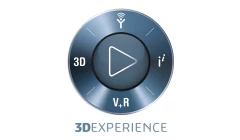 3DEXPERIENCE is a collaborative platform for creating products and services in the cloud, particularly in the area of design, engineering, and manufacturing.
3DEXPERIENCE allows everyone involved to interact and work together on a product: exchange data, contribute to a design, build and test a virtual model.
The platform also has its marketplace for on-demand manufacturing, 3D parts catalog, and engineering services.
T-FLEX is a Parasolid-based parametric CAD software application for 3D solid modeling and 2D design and drafting, made by Russian software company Top Systems. T-FLEX CAD is developed for Microsoft Windows XP, Vista and is localized into many languages.
T-FLEX CAD is a design solution which was created for mechanical engineering. It provides drafting, modeling and assembly tools that allow engineers to develop various products, from single parts to assemblies.
T-FLEX CAD supports a wide range of operations: drawings, assembly drawings, solids, surfaces, parts, parts with multiple solid bodies, assembly models, sheet metal, bill of materials, etc.
T-FLEX CAD provides parametric, adaptive and associative technology aimed at family-of-parts manufacturers or other design situations that use similar geometry but require many different sizes or permutations. Besides parametric 3D modeling T-FLEX CAD supports parametric 2D drawings creation from scratch. Parametric 2D assemblies can be created as well by inserting parametric 2D components.