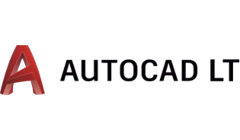 AutoCAD is a software application for CAD and drafting built on Autodesk's proprietary kernel named Shapemanager. Developed by Autodesk, AutoCAD was first to run on microcomputers with internal graphics controllers. As it is available on thirteen different languages, AutoCAD is widely used by architects, project managers engineers, graphic designers, city planners and other professionals all over the globe.
AutoCAD enables professionals to draft and edit 2D geometry and 3D models with solids, surfaces and meshes, annotate drawings with text, leaders, dimensions and tables, customize wit add-on apps and API.
There are different versions of AutoCAD. AutoCAD LT is the lower cost version, with limited capabilities. AutoCAD 360 is an account-based mobile and web application. Its users can view, edit and share files via mobile device and web. To add to it, students can use free student versions of AutoCAD, which are almost identical to the full commercial one.
cadwork is a CAD software, developed by the CSEM. It allows users to draw, to design, or to manufacture. Originally, cadwork was created for the watch industry, but now it is mostly used by the architecture, engineering and construction market, that is civil engineering, carpentry, topographic, road building, architecture, armed concrete, glue laminated timber, stairs.
cadwork offers special modules to provide solutions for different tasks. The modules are fully-fledged components, related to each area of activity and they can be arranged to represent an entity. Thus, they can be exchanged against other modules, or complete an already existing CAD / CAM solution. The existing modules are the following: 2D-Layouts and details, 3D-Modeling, cadwork Viewer, 3D-Cabinet, Roof, Element, List, Piece by piece shop drawing, CNC machines, Staircases, Variant-parametric, Glulam.