BricsCAD is a CAD application for 3D mechanical design, simulation, visualization and documentation. It is built on ShapeManager, geometric modeling kernel by Autodesk.
BricsCAD enables 2D and 3D data integration in a single environment, virtually representing the final product. It allows users to check the form, fit, and functions of the product before it is built. The application provides strong parametric, direct edit and freeform modeling tools as well as multi-CAD translation abilities.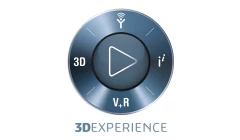 3DEXPERIENCE is a collaborative platform for creating products and services in the cloud, particularly in the area of design, engineering, and manufacturing.
3DEXPERIENCE allows everyone involved to interact and work together on a product: exchange data, contribute to a design, build and test a virtual model.
The platform also has its marketplace for on-demand manufacturing, 3D parts catalog, and engineering services.