BricsCAD is a CAD application for 3D mechanical design, simulation, visualization and documentation. It is built on ShapeManager, geometric modeling kernel by Autodesk.
BricsCAD enables 2D and 3D data integration in a single environment, virtually representing the final product. It allows users to check the form, fit, and functions of the product before it is built. The application provides strong parametric, direct edit and freeform modeling tools as well as multi-CAD translation abilities.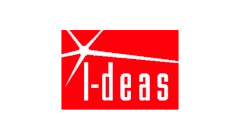 I-DEAS (Integrated Design and Engineering Analysis Software) is a computer-aided design software package. It was originally produced by SDRC in 1982. I-DEAS was used primarily in the automotive industry, most notably by Ford Motor Company and by General Motors. Now it is owned by Siemens PLM Software. Many I-DEAS technologies formed the basis of the NX system.