CADMATIC is a leading developer of digital and intelligent 3D-based design, engineering and information management software solutions for the marine and plant industries. CADMATIC solutions (CADMATIC Marine and CADMATIC Plant) are used for all kinds of ship, offshore and process plant constructions, ranging from luxury yachts to the biggest cruise vessels and offshore platforms in the world, and from food and pharmaceutical projects to the biggest power, chemical, oil & gas and pulp & paper projects.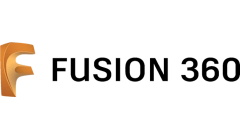 Fusion 360 is a 3D CAD, CAM, CAE cloud-based platform by Autodesk, which connects the development processes of a product. Solid, Surface, T-Spline and Mesh geometry are supported as well as drawing, rendering and 3D-printed output for design validation and documentation. Fusion 360 runs on Windows, Mac OS and in browsers. It is mostly used by students of manufacturing and design spheres.
It is a collaborative platform where users can access each other's files which shortens design lifecycle. As the app can run either on PC or on the cloud, it can work both with and without internet connection. Data management is built into Fusion.
Autodesk Fusion has a single model environment in which all unique parts and assemblies can be created. It incorporates both direct and parametric control. In Fusion users can make drafts, prepare designs for 3D printing as prototypes or as final parts. Fusion 360 includes integrated Assembly modelling, Motion studies, Rendering and FEA tools to help users analyse design before making it. As document management is built into the platform, files are automatically backed up to the cloud.