COMSOL Multiphysics® is a general-purpose simulation software for modeling designs, devices, and processes in all fields of engineering, manufacturing, and scientific research. In addition to using multiphysics modeling for your own projects, you can also turn your models into simulation applications and digital twins for use by other design teams, manufacturing departments, test labs, customers, and more.
The platform product can be used on its own or expanded with functionality from any combination of add-on modules for simulating electromagnetics, structural mechanics, acoustics, fluid flow, heat transfer, and chemical engineering. The add-on modules and LiveLink™ products connect seamlessly for a modeling workflow that remains the same regardless of what you are modeling.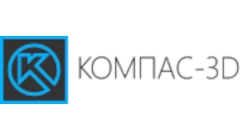 KOMPAS-3D is a flexible 3D modeling system that allows creating models by several methods, including the following ones:
Bottom-up modeling using finished components. Top-down modeling by designing components to match specific designs. Modeling based on layout drawings, such as kinematic diagrams. Or any combination of these modeling methods. These approaches allow creating editable associative models easily.
The KOMPAS-3D system has powerful functions for managing projects of thousands of sub-assemblies, parts, and standard library products. It supports all the capabilities of 3D solids and surface modeling that have become the standard among medium-level CAD/CAM programs.