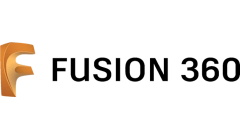 Fusion 360 is a 3D CAD, CAM, CAE cloud-based platform by Autodesk, which connects the development processes of a product. Solid, Surface, T-Spline and Mesh geometry are supported as well as drawing, rendering and 3D-printed output for design validation and documentation. Fusion 360 runs on Windows, Mac OS and in browsers. It is mostly used by students of manufacturing and design spheres.
It is a collaborative platform where users can access each other's files which shortens design lifecycle. As the app can run either on PC or on the cloud, it can work both with and without internet connection. Data management is built into Fusion.
Autodesk Fusion has a single model environment in which all unique parts and assemblies can be created. It incorporates both direct and parametric control. In Fusion users can make drafts, prepare designs for 3D printing as prototypes or as final parts. Fusion 360 includes integrated Assembly modelling, Motion studies, Rendering and FEA tools to help users analyse design before making it. As document management is built into the platform, files are automatically backed up to the cloud.
cadwork is a CAD software, developed by the CSEM. It allows users to draw, to design, or to manufacture. Originally, cadwork was created for the watch industry, but now it is mostly used by the architecture, engineering and construction market, that is civil engineering, carpentry, topographic, road building, architecture, armed concrete, glue laminated timber, stairs.
cadwork offers special modules to provide solutions for different tasks. The modules are fully-fledged components, related to each area of activity and they can be arranged to represent an entity. Thus, they can be exchanged against other modules, or complete an already existing CAD / CAM solution. The existing modules are the following: 2D-Layouts and details, 3D-Modeling, cadwork Viewer, 3D-Cabinet, Roof, Element, List, Piece by piece shop drawing, CNC machines, Staircases, Variant-parametric, Glulam.