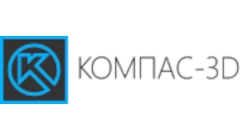 KOMPAS-3D is a flexible 3D modeling system that allows creating models by several methods, including the following ones:
Bottom-up modeling using finished components. Top-down modeling by designing components to match specific designs. Modeling based on layout drawings, such as kinematic diagrams. Or any combination of these modeling methods. These approaches allow creating editable associative models easily.
The KOMPAS-3D system has powerful functions for managing projects of thousands of sub-assemblies, parts, and standard library products. It supports all the capabilities of 3D solids and surface modeling that have become the standard among medium-level CAD/CAM programs.
T-FLEX is a Parasolid-based parametric CAD software application for 3D solid modeling and 2D design and drafting, made by Russian software company Top Systems. T-FLEX CAD is developed for Microsoft Windows XP, Vista and is localized into many languages.
T-FLEX CAD is a design solution which was created for mechanical engineering. It provides drafting, modeling and assembly tools that allow engineers to develop various products, from single parts to assemblies.
T-FLEX CAD supports a wide range of operations: drawings, assembly drawings, solids, surfaces, parts, parts with multiple solid bodies, assembly models, sheet metal, bill of materials, etc.
T-FLEX CAD provides parametric, adaptive and associative technology aimed at family-of-parts manufacturers or other design situations that use similar geometry but require many different sizes or permutations. Besides parametric 3D modeling T-FLEX CAD supports parametric 2D drawings creation from scratch. Parametric 2D assemblies can be created as well by inserting parametric 2D components.