With Materialise 3-matic, you can clean up rough data for simulation or convert your mesh back to CAD. In addition, it allows you to enhance your design by creating 3D textures, lattice structures and conformal structures, ready for Additive Manufacturing.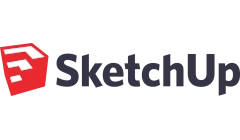 An SKP file is a three-dimensional model created by SketchUp, a 3D design program. It contains a model with wireframes, shades, edge effects, and textures.
The SKP file enables conceptual designs to be created, viewed, and shared quickly and easily. When you create a new document and save it in SketchUp the SKP file is created to store the document and its contents. SKP files can also be used to store SketchUp components. Components may be made by you or another user and can be imported into an SKP document to be inserted into your model.