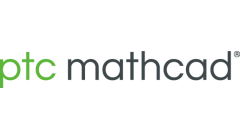 Mathcad is computer software primarily intended for the verification, validation, documentation and re-use of engineering calculations. It is used by engineers and scientists in various disciplines – most often those of mechanical, chemical, electrical, and civil engineering.
Mathcad is part of a broader product development system developed by PTC, and often utilized for the many analytical touch points within the systems engineering processes. It integrates with PTC's other solutions that aid product development, including Creo Elements/Pro, Windchill, and Creo Elements/View. Its live feature-level integration with Creo Elements/Pro enables Mathcad analytical models to be directly used in driving CAD geometry.
T-FLEX is a Parasolid-based parametric CAD software application for 3D solid modeling and 2D design and drafting, made by Russian software company Top Systems. T-FLEX CAD is developed for Microsoft Windows XP, Vista and is localized into many languages.
T-FLEX CAD is a design solution which was created for mechanical engineering. It provides drafting, modeling and assembly tools that allow engineers to develop various products, from single parts to assemblies.
T-FLEX CAD supports a wide range of operations: drawings, assembly drawings, solids, surfaces, parts, parts with multiple solid bodies, assembly models, sheet metal, bill of materials, etc.
T-FLEX CAD provides parametric, adaptive and associative technology aimed at family-of-parts manufacturers or other design situations that use similar geometry but require many different sizes or permutations. Besides parametric 3D modeling T-FLEX CAD supports parametric 2D drawings creation from scratch. Parametric 2D assemblies can be created as well by inserting parametric 2D components.