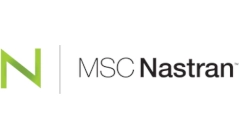 MSC Nastran is a multidisciplinary structural analysis application used by engineers to perform static, dynamic, and thermal analysis across the linear and nonlinear domains, complemented with automated structural optimization and award winning embedded fatigue analysis technologies, all enabled by high performance computing.
Engineers use MSC Nastran to ensure structural systems have the necessary strength, stiffness, and life to preclude failure (excess stresses, resonance, buckling, or detrimental deformations) that may compromise structural function and safety. MSC Nastran is also used to improve the economy and passenger comfort of structural designs.
cadwork is a CAD software, developed by the CSEM. It allows users to draw, to design, or to manufacture. Originally, cadwork was created for the watch industry, but now it is mostly used by the architecture, engineering and construction market, that is civil engineering, carpentry, topographic, road building, architecture, armed concrete, glue laminated timber, stairs.
cadwork offers special modules to provide solutions for different tasks. The modules are fully-fledged components, related to each area of activity and they can be arranged to represent an entity. Thus, they can be exchanged against other modules, or complete an already existing CAD / CAM solution. The existing modules are the following: 2D-Layouts and details, 3D-Modeling, cadwork Viewer, 3D-Cabinet, Roof, Element, List, Piece by piece shop drawing, CNC machines, Staircases, Variant-parametric, Glulam.