Onshape is a CAD software system, delivered via internet. It is focused on mechanical CAD and is used for product and machinery design in many industries, such as electronics, machinery, medical devices, 3D printing, machine parts and industrial equipment.
It makes use of cloud computing, with computer-intensive processing and rendering performed on Internet-based servers. Users are able to interact with the system via a web browser or the iOS and Android apps.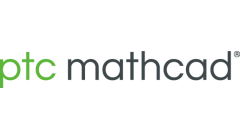 Mathcad is computer software primarily intended for the verification, validation, documentation and re-use of engineering calculations. It is used by engineers and scientists in various disciplines – most often those of mechanical, chemical, electrical, and civil engineering.
Mathcad is part of a broader product development system developed by PTC, and often utilized for the many analytical touch points within the systems engineering processes. It integrates with PTC's other solutions that aid product development, including Creo Elements/Pro, Windchill, and Creo Elements/View. Its live feature-level integration with Creo Elements/Pro enables Mathcad analytical models to be directly used in driving CAD geometry.