Onshape is a CAD software system, delivered via internet. It is focused on mechanical CAD and is used for product and machinery design in many industries, such as electronics, machinery, medical devices, 3D printing, machine parts and industrial equipment.
It makes use of cloud computing, with computer-intensive processing and rendering performed on Internet-based servers. Users are able to interact with the system via a web browser or the iOS and Android apps.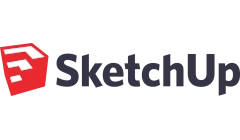 An SKP file is a three-dimensional model created by SketchUp, a 3D design program. It contains a model with wireframes, shades, edge effects, and textures.
The SKP file enables conceptual designs to be created, viewed, and shared quickly and easily. When you create a new document and save it in SketchUp the SKP file is created to store the document and its contents. SKP files can also be used to store SketchUp components. Components may be made by you or another user and can be imported into an SKP document to be inserted into your model.