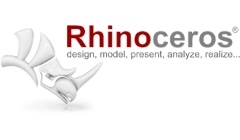 Rhinoceros (typically abbreviated Rhino, or Rhino3D) is a commercial 3D computer graphics and computer-aided design (CAD) application software developed by Robert McNeel & Associates. It is used in industries including architecture, industrial and product design, in multimedia and graphic design and runs on Microsoft Windows and OS X. Rhino uses Grasshopper, a visual scripting language add-on, developed by Robert McNeel & Associates.
Rhino is based on the NURBS mathematical model, so it focuses on producing precise representations of curves and freedom surfaces. It allows users to create, edit, analyse, and visualize NURBS curves, surfaces, solid bodies, point clouds and polymeshes.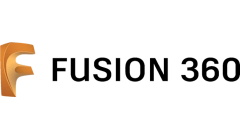 Fusion 360 is a 3D CAD, CAM, CAE cloud-based platform by Autodesk, which connects the development processes of a product. Solid, Surface, T-Spline and Mesh geometry are supported as well as drawing, rendering and 3D-printed output for design validation and documentation. Fusion 360 runs on Windows, Mac OS and in browsers. It is mostly used by students of manufacturing and design spheres.
It is a collaborative platform where users can access each other's files which shortens design lifecycle. As the app can run either on PC or on the cloud, it can work both with and without internet connection. Data management is built into Fusion.
Autodesk Fusion has a single model environment in which all unique parts and assemblies can be created. It incorporates both direct and parametric control. In Fusion users can make drafts, prepare designs for 3D printing as prototypes or as final parts. Fusion 360 includes integrated Assembly modelling, Motion studies, Rendering and FEA tools to help users analyse design before making it. As document management is built into the platform, files are automatically backed up to the cloud.