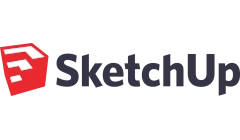 An SKP file is a three-dimensional model created by SketchUp, a 3D design program. It contains a model with wireframes, shades, edge effects, and textures.
The SKP file enables conceptual designs to be created, viewed, and shared quickly and easily. When you create a new document and save it in SketchUp the SKP file is created to store the document and its contents. SKP files can also be used to store SketchUp components. Components may be made by you or another user and can be imported into an SKP document to be inserted into your model.
CADMATIC is a leading developer of digital and intelligent 3D-based design, engineering and information management software solutions for the marine and plant industries. CADMATIC solutions (CADMATIC Marine and CADMATIC Plant) are used for all kinds of ship, offshore and process plant constructions, ranging from luxury yachts to the biggest cruise vessels and offshore platforms in the world, and from food and pharmaceutical projects to the biggest power, chemical, oil & gas and pulp & paper projects.