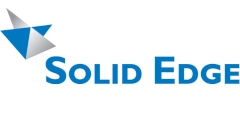 Solid Edge is a 3D CAD, parametric feature and synchronous technology solid modeling software owned by Siemens AG. It provides solid modeling, assembly modeling and 2D orthographic view functionality for mechanical designers. Solid Edge uses Parasolid kernel.
For users from electrical manufacturing Solid Edge provides integrated electrical design, for mechanical manufacturers of use would be design tools with topology optimization. To add to it, Solid Edge can supply scalable data management capabilities which are built in the program, CNC machining and 3D printing capabilities. Solid Edge portal provides cloud-based collaboration for viewing and sharing CAD-files.
cadwork is a CAD software, developed by the CSEM. It allows users to draw, to design, or to manufacture. Originally, cadwork was created for the watch industry, but now it is mostly used by the architecture, engineering and construction market, that is civil engineering, carpentry, topographic, road building, architecture, armed concrete, glue laminated timber, stairs.
cadwork offers special modules to provide solutions for different tasks. The modules are fully-fledged components, related to each area of activity and they can be arranged to represent an entity. Thus, they can be exchanged against other modules, or complete an already existing CAD / CAM solution. The existing modules are the following: 2D-Layouts and details, 3D-Modeling, cadwork Viewer, 3D-Cabinet, Roof, Element, List, Piece by piece shop drawing, CNC machines, Staircases, Variant-parametric, Glulam.