Tekla, owned by Trimble is a software product family that consists of programs for analysis and design. Tekla software includes several applications.
Tekla Structures is 3D BIM software widely used in the building and construction industries. The software allows users to create and operate 3D structural models in concrete or steel and leads them through the process from concept to fabrication.
Tekla Structural Designer is a software app for analysis and construction design. It is used by structural engineers.
Tekla Tedds is a software solution for automating repetitive calculations. It is used in engineering for creating output such as calculations, sketches and notes.
Tekla BIMsight is an application for building information model-based construction project collaboration.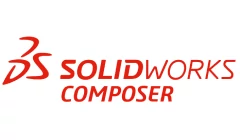 SOLIDWORKS Composer is a SOLIDWORKS tool to create high-quality graphical assets from the 3D CAD designs for technical and marketing documentation.
It is used to make manufacturing assembly instructions, product manuals, installation instructions, service manuals, training guides, marketing brochures, and sales bidding kits. The available graphics vary from 2D content to interactive animations.
According to the package, SOLIDWORKS Composer allows users to interact with a model, use custom APIs to customize the player, launch CAD files batch conversion, support PMI data, and identify design errors.