CAD applications are extensively used for product design, whether it's a tiny electronic part or massive aerospace systems. Lengthy product lifecycle, from concept to manufacturing, calls for high-level cross-divisional collaboration, seamless data exchange, and robust software.
We'd like to introduce you to a few featured CAD applications that had similar challenges and were further enhanced with the help of CAD Exchanger SDK.
Altium Designer by Altium
Altium offers electronic design tools for PCB (Printed Circuit Board) engineering. Its flagship software Altium Designer is a complete digital environment for schematic building and layout creation.
PCB workflow requires collaboration between electrical and mechanical engineers and thus seamless conversion of native 3D models to CAD formats. Thanks to CAD Exchanger SDK integration, Altium Designer supports such MCAD tools as SOLIDWORKS. Read the complete project overview here.
FORAN by SENER
iFUYO3LSYTE
SENER is an industrial giant that provides equipment and engineering solutions for aerospace, turnkey projects in the renewable energy sector, and engineering tools for marine, energy, and infrastructure.
Since 2012, CAD Exchanger has been cooperating with SENER on its vessel CAD/CAM system - FORAN. It's used throughout the marine creation process, from its general layout to exporting of manufacturing data. CAD Exchanger team integrated parallel computation to accelerate geometric algorithms, solved data races problems, invented algorithms to speed up huge models loading, and enabled JT, STEP, IFC, IGES support. Read how CAD Exchanger covered the whole range of CAD-specific issues in FORAN.
Advance BIM Designers by Graitec
7DK6RVDnkxE
Graitec provides digital solutions for design, simulation, production, and management in various manufacturing industries. One of its products, Advance BIM Designers, is a set of software tools for automating BIM design workflows and generating related documentation. It deals with the creation of steel building shapes and rebar cages for reinforced concrete structures.
As soon as CAD Exchanger announced a new release with SOLIDWORKS support, Graitec integrated this SDK solution to its product. It facilitates the daily workflow of CAD professionals by the smooth import of SOLIDWORKS formats.
ScotWeave by ScotCad Textiles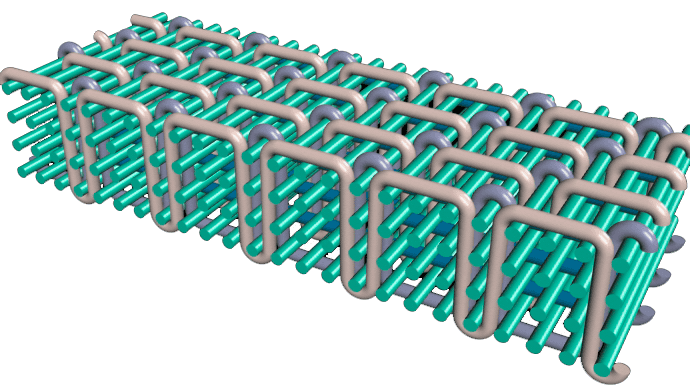 ScotCad Textiles develops CAD software for woven textiles. The company has evolved from a dobby-only tool in 1984 towards complex technical fabrics for automotive, aerospace, and medical industries. ScotWeave suite allows users to create patterns and weaves, visualize final fabric, calculate its cost, and export specifications.
To be able to input textile designs to the downstream CAD applications, ScotCad Textiles reassigned the development of the solution to CAD Exchanger. The new module generates 3D yarn models represented with B-Spline surfaces and then smoothly exports it in IGES/STEP formats. Find out more about ScotWeave apps.
Lexocad by cadwork
AE-NQsXespk
cadwork is specialized in CAD and CAM tools for the timber construction industry. Its products enable design, manufacturing, planning, and construction interface for all the participants of the building cycle.
Lexocad software was the first of the cadwork's solutions using Open CASCADE Technology kernel. It raised the issue of data conversion from SAT to B-Rep. CAD Exchanger SDK made this process flawless, given that CAD Exchanger has seamless integration with OCC-based applications. All the details - on the cadwork success story page.
CAD Exchanger SDK is capable of streamlining CAD, CAM, and BIM applications. It offers:
Numerous 3D formats to seamlessly integrate with various geometrical modeling kernels (Parasolid, ACIS, Open CASCADE, Rhino)
B-Rep and meshes support
Visualization component for interactive behavior
Various meta-data and PMI (Product and Manufacturing Information)
Robust large models support
If you need to synchronize design changes in your CAD apps regardless of models' format and size, contact us by info@cadexchanger.com or request free evaluation directly on our website.