PTC Creo by Parametric Technology Corporation, known as Pro/Engineer is a 3D CAD, CAM, CAE, and associative solid modeling application. It provides solid modeling, assembly modeling, 2D orthographic views, FEA, direct and parametric modeling, sub-divisional and NURBS surface modeling, and tools for mechanical designers. Its users are mostly mechanical engineers, designers and manufacturers. The app runs on Microsoft Windows.
The application is based on the parametric modeling approach, which means that it uses parameters, dimensions, features, and relationships to enable design automation and optimization of design and product development processes. Companies with family-based or platform-driven product strategy make use of this approach for what they need to perform successful design processes is a prescriptive design strategy.
The capabilities of the product can be split into three main groups, that is Engineering design, Analysis and Manufacturing. Product design processes include the ability to generate geometry of other integrated design disciplines such as industrial and standard pipe work and complete wiring definitions. Creo has numerous analysis tools which help with the development of the product which include human factors, manufacturing tolerance, mould flow and design optimization. As for manufacturing, the app has tooling options for molding, die-casting and progressive tooling design.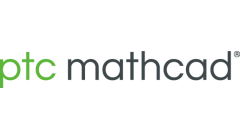 Mathcad is computer software primarily intended for the verification, validation, documentation and re-use of engineering calculations. It is used by engineers and scientists in various disciplines – most often those of mechanical, chemical, electrical, and civil engineering.
Mathcad is part of a broader product development system developed by PTC, and often utilized for the many analytical touch points within the systems engineering processes. It integrates with PTC's other solutions that aid product development, including Creo Elements/Pro, Windchill, and Creo Elements/View. Its live feature-level integration with Creo Elements/Pro enables Mathcad analytical models to be directly used in driving CAD geometry.