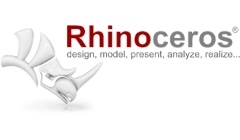 Rhinoceros (typically abbreviated Rhino, or Rhino3D) is a commercial 3D computer graphics and computer-aided design (CAD) application software developed by Robert McNeel & Associates. It is used in industries including architecture, industrial and product design, in multimedia and graphic design and runs on Microsoft Windows and OS X. Rhino uses Grasshopper, a visual scripting language add-on, developed by Robert McNeel & Associates.
Rhino is based on the NURBS mathematical model, so it focuses on producing precise representations of curves and freedom surfaces. It allows users to create, edit, analyse, and visualize NURBS curves, surfaces, solid bodies, point clouds and polymeshes.
Tekla, owned by Trimble is a software product family that consists of programs for analysis and design. Tekla software includes several applications.
Tekla Structures is 3D BIM software widely used in the building and construction industries. The software allows users to create and operate 3D structural models in concrete or steel and leads them through the process from concept to fabrication.
Tekla Structural Designer is a software app for analysis and construction design. It is used by structural engineers.
Tekla Tedds is a software solution for automating repetitive calculations. It is used in engineering for creating output such as calculations, sketches and notes.
Tekla BIMsight is an application for building information model-based construction project collaboration.