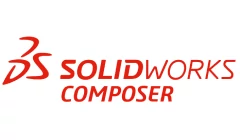 SOLIDWORKS Composer is a SOLIDWORKS tool to create high-quality graphical assets from the 3D CAD designs for technical and marketing documentation.
It is used to make manufacturing assembly instructions, product manuals, installation instructions, service manuals, training guides, marketing brochures, and sales bidding kits. The available graphics vary from 2D content to interactive animations.
According to the package, SOLIDWORKS Composer allows users to interact with a model, use custom APIs to customize the player, launch CAD files batch conversion, support PMI data, and identify design errors.
SOLIDWORKS is a modeling CAD and CAE program by Dassault Systemes which runs on Windows. It is built on Parasolid kernel. SOLIDWORKS user base covers a very wide range of manufacturing market segments, such as aerospace, transportation, electronics, machinery, medical, etc.
SOLIDWORKS users are capable of drawing 2D and 3D sketches, creating models and assemblies, adding notes, dimensions and tolerances.