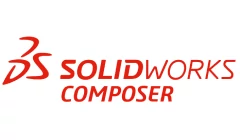 SOLIDWORKS Composer is a SOLIDWORKS tool to create high-quality graphical assets from the 3D CAD designs for technical and marketing documentation.
It is used to make manufacturing assembly instructions, product manuals, installation instructions, service manuals, training guides, marketing brochures, and sales bidding kits. The available graphics vary from 2D content to interactive animations.
According to the package, SOLIDWORKS Composer allows users to interact with a model, use custom APIs to customize the player, launch CAD files batch conversion, support PMI data, and identify design errors.
T-FLEX is a Parasolid-based parametric CAD software application for 3D solid modeling and 2D design and drafting, made by Russian software company Top Systems. T-FLEX CAD is developed for Microsoft Windows XP, Vista and is localized into many languages.
T-FLEX CAD is a design solution which was created for mechanical engineering. It provides drafting, modeling and assembly tools that allow engineers to develop various products, from single parts to assemblies.
T-FLEX CAD supports a wide range of operations: drawings, assembly drawings, solids, surfaces, parts, parts with multiple solid bodies, assembly models, sheet metal, bill of materials, etc.
T-FLEX CAD provides parametric, adaptive and associative technology aimed at family-of-parts manufacturers or other design situations that use similar geometry but require many different sizes or permutations. Besides parametric 3D modeling T-FLEX CAD supports parametric 2D drawings creation from scratch. Parametric 2D assemblies can be created as well by inserting parametric 2D components.