SOLIDWORKS is a modeling CAD and CAE program by Dassault Systemes which runs on Windows. It is built on Parasolid kernel. SOLIDWORKS user base covers a very wide range of manufacturing market segments, such as aerospace, transportation, electronics, machinery, medical, etc.
SOLIDWORKS users are capable of drawing 2D and 3D sketches, creating models and assemblies, adding notes, dimensions and tolerances.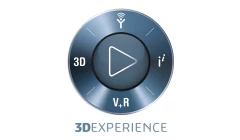 3DEXPERIENCE is a collaborative platform for creating products and services in the cloud, particularly in the area of design, engineering, and manufacturing.
3DEXPERIENCE allows everyone involved to interact and work together on a product: exchange data, contribute to a design, build and test a virtual model.
The platform also has its marketplace for on-demand manufacturing, 3D parts catalog, and engineering services.