FreeCAD is a customizable, open-source paramentic 3D CAD and BIM software with FEM support, built on the Opencascade geometric kernel. It was created primarily for product design and mechanical engineering, but it can be used in a wide range of industries, such as electrical engineering, or architecture. It runs on Windows, Mac OS, and Linux.
FreeCAD is made to craft real-life objects of different sizes and is perfect for a home user/amateur, programmer, experienced CAD software user, or educator. This software provides tools similar to those of SolidWorks, Catia or Autodesk Revit.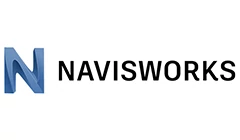 Navisworks® project review software by Autodesk is used to improve the coordination of BIM and AEC projects. Its main function is to define clashes, interferences, and similar conflicts within the design stage and to resolve them.
Navisworks® combines all the data related to the project and lets all relevant parties explore and review it. The software brings together design and engineering data, construction schedules, animated models, and simulation. It allows users to perform comprehensive analysis and accurate control of complex construction works.