With Materialise 3-matic, you can clean up rough data for simulation or convert your mesh back to CAD. In addition, it allows you to enhance your design by creating 3D textures, lattice structures and conformal structures, ready for Additive Manufacturing.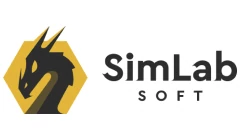 Simlab Composer is a visualization and VR creation software by SimLab Soft. It is applied in creating renders, building VR scenes, and running simulations.
Simlab Composer provides users with a possibility to import, visualize, render, and animate 3D CAD models, share and collaborate, automate and improve visualization and simulation workflows.